Google's New Keyword Planner Tool
April 13, 2018
2 comments
Keeping in line with the updated Google AdWords design, Google has released a rebuilt and redesigned Google Keyword Planner Tool.
Apart from receiving a design update, the new Google Keyword Planner Tool is now much simpler. Moreover, apart from simplicity, the rebuilt Google Keyword Planner tool has also a few new features.

If we have to summarize the new release in one sentence, we would say that many actions that earlier took multiple steps can now be achieved in just a single click. You rarely have to go to different screens to perform an action with the redesigned GKP tool.
One of the biggest new features is the ability to add bulk keywords. After adding keywords in bulk, you can get an overview of the forecasts in one place.
Here is a screenshot of the redesigned look.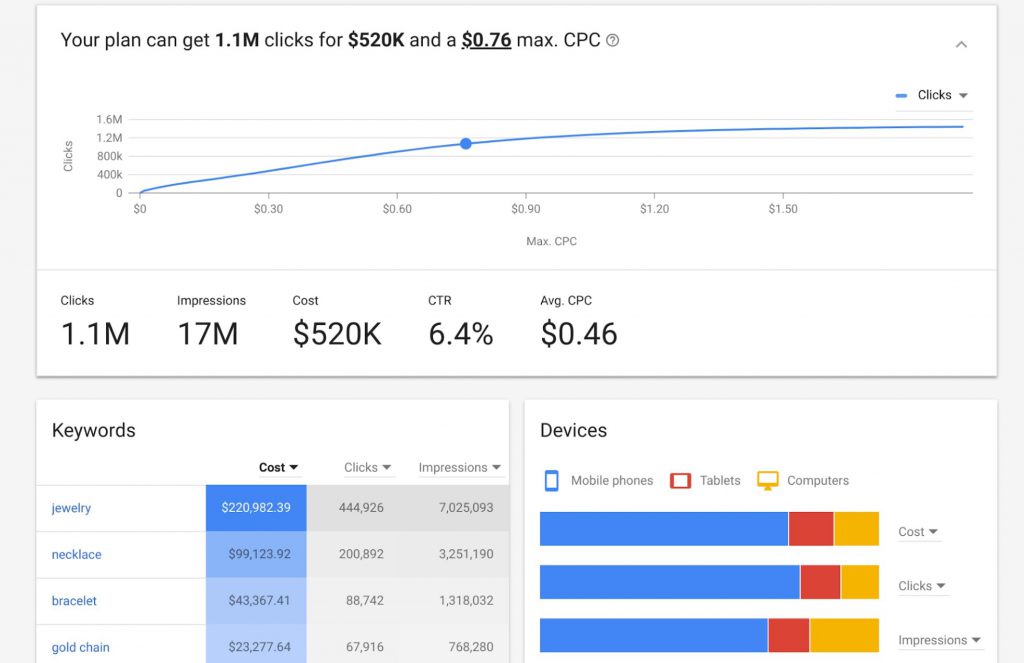 Here are some of the biggest takeaways from this screenshot:
The new forecast section is condensed — giving users now a bird's eye view of what to expect.
The inclusion of a maximum CPC is a welcome addition.
Device breakdown is easily available on the same screen. You don't have to go to a different screen to get this data.
In addition, another major change is that keyword ideas now show the total monthly search volumes as well as mobile traffic.
See the following screenshot.



This is line with the ever-growing focus on mobile devices and mobile traffic. Google is actively working to make the web more mobile-friendly. And since mobile traffic now plays such an active role for any online business, it makes sense to show the mobile traffic right on the main screen.
Earlier, users had to use the search volume trends drop down menu to get this mobile data.
Up until last month, the redesigned Google Keyword Planner was available only to a limited number of users. However, now it is publicly available for everyone.
Make sure that you have access to the new AdWords experience, and you will be able to get to the latest (redesigned and rebuilt) Google Keyword Planner tool.