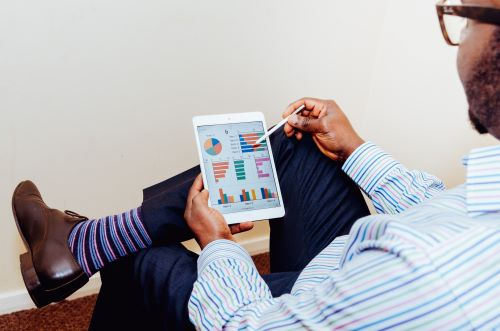 How to Set up Your Estate Agency for Digital Marketing Success
It begins with a responsive, helpful website. Your website isn't just a digital version of your brochure. Treat like another agent– a hardworking frontliner that receives visitors, gives helpful advice, guides the prospect through the sales funnel that turns leads into buyers, and puts you and your agency at top of mind.
A well-functioning site is fast and responsive. Keep auto-playing videos and large images to a minimum. If a page takes more than 3 seconds to load, 40% of all visitors will abandon the page. The number goes even higher with mobile users– people looking on their phone have even less patience than those on their computers.
Any website has roughly 3 minutes to hold the attention of a visitor to drive conversions. This is the magic number to aim for. By giving the correct information on the appropriate pages, providing valuable, informative content, and making a clear path for the visitor to navigate, a well-designed site can increase your chances of keeping a visitor on the site and closing a sale.
Are SEO Services Worth it for Estate Agents?
Executed properly, SEO for estate agents gives a firm a decided edge by making you rank higher when a user searches for a term that is relevant to your business: "property listings Bristol" for example.
Because estate agencies are now competing online, the newest battleground has shifted from local listings and word of mouth to Google search results pages.
While being in the top ten or the first page of results gives you advantages over the competition, 
being in the top 3 results (often referred to by digital marketers as "the only ranks that matter") gets you 75% of all clicks for that search term. We explore this further in our Guide to SEO for estate agents, so give it a look.
Now that we've established why you want to the at the top of the search engine results page, let's ask the important question.
How do I get my listing to the top of Google?
Make sure that your listing and site targets the right search terms or keywords, and provides the information that the searcher is looking for (address, price, images, etc). SEO for estate agencies can get agents more leads, which with the proper buyer management can turn into sales.
Go local. By this we mean local search optimisation. Property searches are always bound by location. Potential customers type "house for sale Croydon" or "properties for sale near me." To show up on the appropriate local searches, make sure that you:
Claim your Google My Business listing. Google maintains an online directory that lists a business' address and contact information. This lets customers contact agents directly from the search page, leave reviews and makes them visible on Google Maps, this also makes Google more likely to rank a firm higher, as the engine prioritises businesses that have registered the name, address and postal address.
Clearly indicate localised content on your site. Create pages on your site for listings organised by location ("Milton Keynes listings," for example).
Use social media signals. Link to your social media accounts (Facebook, Twitter, LinkedIn). These allow you to interact with customers as well as provide an opportunity to have someone share your page or your content.
Get on Social Media. Aside from SEO and estate marketing, social media can also help drive potential buyers to you. Social media puts agents where their buyers are. In 2019, the average user in the UK spends 1 hour and 50 minutes on social media.Over the years, social media use has grown for every age group, gender, and geography, making this a powerful tool to reach out to potential buyers.
More than just another platform to show your listings, a properly-managed social media account provides estate agents with opportunities to interact, network with and market directly to audiences. Post videos and news about our property locations, share some tips about home maintenance, explain the purchase process. As long as you provide useful, valuable content, it will help you engage with potential buyers.
Analytics tools are available on social media, which lets property firms target very specific audiences (by location, age or interest for example) to drive maximum engagement.
The key to attracting traffic and leads lies in being as helpful as possible.
Tips for Marketing Yourself Online
Regardless of how your estate firm approaches digital marketing strategy, there are some important guiding principles that apply to all of them.
Be Consistent. Whether it's on your website, landing pages, social media, or emails to leads, make sure you stay within their orbit. Create a regular schedule for releasing content– work with your existing budget and schedule, as long as you're consistent. Also be consistent with your branding. Use the same logo, fonts and brand colors on everything you produce.
Give Value, Value, Value. The key to attracting traffic and leads lies in being as helpful as possible. Everyone who is searching online is looking for something specific– information, guidance, a tutorial, etc. Figure out what it is that your audience is searching for, whether it's price trends in the area of the property, photos or specifications of the house, or even a map, and provide it to them. Knowing what your customers need and putting yourself in a position to help builds trust, and trust is how you get new leads.
Make Local Blog Posts. Be the area expert. Display your expertise by posting about the city, local activities and attractions. Be the tour guide and provide information that a newcomer and prospective home buyer would want to know about, especially if it adds value to the property.
A Customer-centric Strategy
Digital marketing for estate agents, whether it is through SEO, website design, social media, or any other digital marketing strategy, is all about What the Customer Needs. By understanding the journey our potential buyers make– which during the pandemic has changed, and will continue to change– you can put yourself where they need you.
While there is much uncertainty out there, one thing for sure: the face of marketing for estate agencies and others, in its planning, strategy, and execution will continue becoming increasingly digital. And the earlier you adapt, the better your chances of getting through 2020.
If you'd like to learn more about how digital marketing and SEO can help your estate agency,visit our SEO Services page, and see how we can help you drive more sales online.