How to Get Backlinks Without a Search Engine Penalty?
September 23, 2015
1 comments
Backlinks are good, right?
They help you drive more traffic, build credibility, and improve your search engine rankings.
As a matter of fact, backlinks were proven to be the 3rd most important search engine ranking factor in 2014. It is no surprise that so many online marketers, bloggers, and entrepreneurs want to generate more high-quality and powerful backlinks for their websites.
However, the same backlinks can land you in great trouble.
You see, there are certain rules and online etiquettes to follow when it comes to link building. If you do it the wrong way, you may get a few backlinks on a temporary basis, but search engines will eventually penalise your website and demote its rankings.
This is why it is very important to build links in the safest manner possible.
In this post, I'm going to share a few tips on how to generate backlinks without provoking the wrath of the search engine gods.
Tip #1: Only Focus Within Your Own Niche
As content marketing is evolving and becoming more popular, operating within your niche is also gaining more importance.
An important tip to avoid search engine penalties is to only focus in your own niche while you are trying to generate backlinks. It has always been a major aspect but after the Google Penguin update, it has become all the more important.
Here is a chart explaining how Google Penguin penalised certain websites because of the way they generated their backlinks.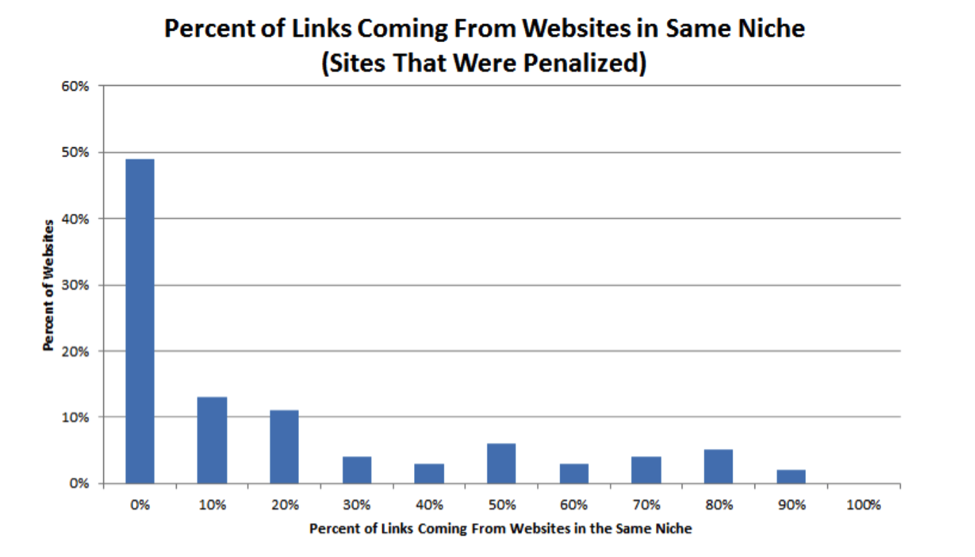 Did you notice something interesting in the image?
If you notice carefully, you will realise that websites with 0% relevant links got hit the most. On the other hand, websites with 100% relevant links didn't get any penalty whatsoever!
This proves the point that you should generate backlinks only from within your niche.
For instance, if you have a website that deals with "lead generation", don't acquire a backlinks from a website that publishes informative content on "dogs". It isn't related to your website, and the backlink will land you in big trouble.
Tip #2: Contextual Backlinks
Remember those backlinks in the author bio? Those still work, but contextual backlinks are now way more powerful than the author bio backlinks.
What are contextual backlinks?
In case you don't know what I mean by "contextual backlinks", here is an example.
In simple words, a link that is contextually and naturally added into the content of an article can be termed as a contextual backlink. It is significantly more powerful than the author bio link because it actually adds more value for the readers.
As a general rule of thumb, make sure you focus on the contextual backlinks more than you do on author bio links. Websites more contextual backlinks are least likely to get a search engine penalty.
But make sure you don't overdo it. Keeping a nice balance would be good.
Tip #3: Diversified Anchor Texts
While those generic anchor texts, such as click here, read this, here still work, you shouldn't only rely on them.
Cleverly diversifying the anchor texts for your backlinks is another great way to avoid search engine penalties. How can you do it? Here are a few different ideas to diversify the anchor texts:
Use the exact title of the post.
Use your domain name
Use the title of your website
Use the contextual meaning of the post
Use the author's name
Use your niche as a diversified anchor text
There are plenty of options. Moreover, you can always use those generic anchor texts — provided you do it within a fair limit.
Tip #4: Build Deep Links
A lot of bloggers only redirect the backlinks to their homepages. Although it is okay to do for a few of those links, building deep links, however, is the real key to avoid getting penalties.
Don't redirect every backlink to your website's homepage. Instead, pinpoint the exact web page or blog post that the specific link should target and link to it. Building deep backlinks within your website make it more powerful and meaningful. This is also a great way to avoid any possible search engine penalty by Google Penguin.
It is because if you have, say, 100 backlinks, and all of them are pointing to the homepage of your website, it will look spammy. It is certainly not the best practice, and you may eventually pay the price for it.
Final Words
I hope these tips will help you generate backlinks in the safest way possible.
Do you have any tips to share with us? Please do so by using the comment section below. We'd love to hear from you.