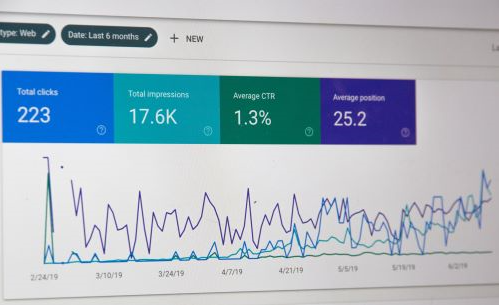 5 tips for minimising the cart abandonment rate
Shopping cart abandonment is a big issue for online e-commerce stores of all sizes — big or small. According to stats, shopping cart abandonment accounts for $18 billion in lost revenue every year.
In this blog post, we are going to share five tips for minimising the cart abandonment rate on your website, increase revenue, and improve your return on ad spend (ROAS) and return on investment (ROI).
1. Establish trust
One of the biggest problems online e-commerce stores face is the lack of trust by potential consumers. In this day and age, privacy and protection of data are major concerns. Data gets stolen all the time.
On top of that, not all e-commerce stores deliver as they promise. While some are actively involved in shady practices, others just fail to provide the required customer service.
Fortunately, there are ways to eliminate those concerns and establish trust — which goes a long way in decreasing the cart abandonment rate.
For instance, you can include the various "trust icons" on your checkout page. It is, however, important that the trust icons or logos are recognisable. 
Here is an example.
Secondly, do not forget to add real customer testimonials and positive feedback on the checkout page.
Watching or reading a real customer testimonial can go a long way in establishing trust and credibility of your business. According to Shopify, 61 percent of buyers may abandon the cart if they do not trust a store.
With these two techniques, you can easily minimise that issue.
2. Offer multiple payment options
Sometimes, everything is great. The buyer has found the right product, she trusts you, and there are no price-related surprises.
In short, there might not be any obstacles — except for the payment option.
By offering multiple payment options, you can minimise that possible friction and allow buyers to pick their most favorite option. Not having enough payment options can increase the cart abandonment rate by up to 7 percent.
There is no shortage of payment options in today's world. From credit cards to mobile payment systems to PayPal, the average online buyer has plenty of options. It is important to acknowledge that diversity and use it to your advantage.
3. Be upfront about price
Often, e-commerce stores are not entirely upfront about the final price. You'd notice that many stores keep the shipping cost hidden until you reach the final checkout stage.
While this tactic may often work, it is also a leading cause of higher cart abandonment rates.
Almost one-third of all ecommerce online shopping carts get abandoned because of shipping costs that the buyers didn't see coming.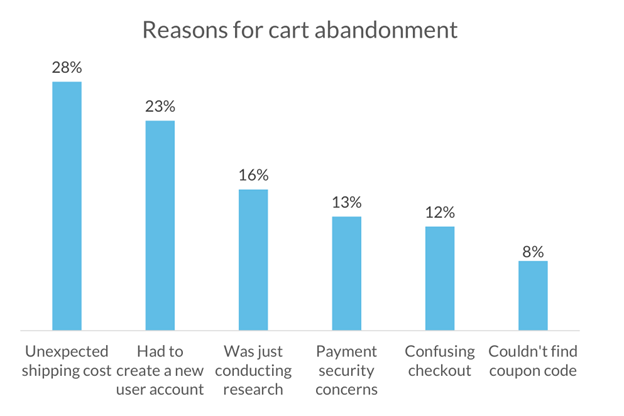 Instead of dragging a user to the very end, only to disappoint them, it is generally a better idea to be upfront about your pricing options.
Be transparent and wear that badge proudly. This will not only decrease the cart abandonment rate, but it will also help improve the credibility of your business — especially when your competitors are involved in keeping certain types of charges hidden.
4. Make the checkout process effortless
It is very important to regularly revisit the checkout process and make necessary improvements. Your goal should be to make it as seamless, logical, and quick as possible.
Minimise the barriers, the pages, and the number of clicks a buyer has to go through. Fewer barriers mean less friction — which will likely improve the conversion rate.
Also, make saving carts effortless.
The online buying experience can be fairly different than buying at a local brick-and-mortar store. With online, you do not have to commit to buying something. It is possible to change your decision at the last moment.
The ability to return to your cart and all its items — while browsing and/or adding a few other products — effortlessly, without losing any progress, is extremely important.
5. Let consumers buy without an account
Approximately 14 percent of online buyers indicate that they abandon the cart if the website does not offer a "guest checkout" option.
Forcing users to create an account before they are allowed to checkout is the equivalent of creating an unnecessary hurdle — one that goes against the philosophy of removing barriers.
Make sure your website offers the option of a "guest checkout".  There are other ways to gather buyer information and generate leads for upselling or cross-selling.
Conclusion
High cart abandonment rate is a big issue that most e-commerce stores face. However, that's one thing that often gets neglected.
With the above-mentioned five tips, you can dramatically improve the cart abandonment rate, the overall conversion rate, and the ROI.