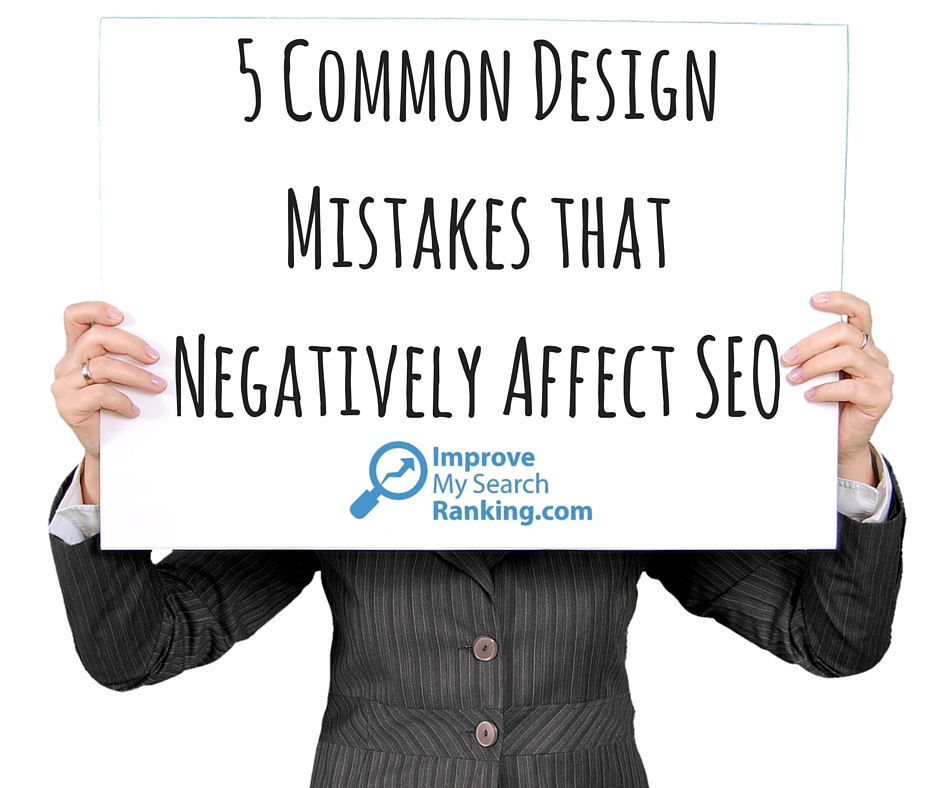 5 Common Design Mistakes that Negatively Affect SEO
February 5, 2016
2 comments
Designing is artistic in nature, and art does not know any boundaries or constraints. Creativity is an integral part of designing, and designers needs to be free of any limitations to be creative.
However, when you are designing a business website, you do not always have the luxury of being 100% creative.
Why?
Because while creativity and artistic designs may lead to a very elegant and pleasant design, it may not be 100% functional and optimised for search engines. And for a business website, in my opinion, its #1 goal should always be to get more targeted traffic viewing it.
In this post, I am going to discuss 5 common design mistake that negatively affect SEO. Make sure that you are not committing any of these mistakes.

1. Using Images to Display the Most Important & Relevant Information
Search engines can't fully understand images. Period.
Search engines, such as Google, Yahoo, and Bing, understand text better than any other medium. If you constantly use images to display the most important and relevant information on your website, those search engines may not understand and optimise the contents of your website.
Using images, videos, and infographics are important because they make your website visitors happy. These elements are much more engaging than simple text-based contents.
So, the tip is to use them wisely and tactically. Do not load them with useful information that search engines can't read or understand.
For instance, if you want search engine crawlers to find a popular keyword term and optimise your website for it, use it in the text form. Do not use that in an image.

2. Non-Responsive Website Design
If your website design isn't mobile friendly, you must be losing a lot of search engine traffic. Moreover, it will also negatively affect your website's search engine rankings.
Recently in April 2015, Google release a mobile-friendly algorithm update that is demoting the websites that are not mobile-optimised. According to Smart Insights, non-friendly mobile pages have dropped an average of 5 places in the search engine results pages.
And, honestly, it's 2016. Almost 50% of the traffic is coming from mobile devices. There is simply no reason for not having a mobile-friendly website.

3. Showing Intrusive Pop-up Ads Upfront
Most webmasters do not see the connection between bad user-experience and lower search engine rankings. They continue to show intrusive pop-up ads to get more ad-clicks or email subscribers. As a result, these ads not only annoy their website visitors, but they also negatively affect the search engine rankings of the website.
Here is a simple concept that you need to understand.
If a user clicks on your website through the search engine results pages, search engines notice how quickly she clicks the quit button. Displaying intrusive pop-up ads upfront make visitors instantly quit the website. It sends negative signals to search engines and they eventually demote your website in the search engine rankings.
But gaining email subscribers is also important for only business website. So, what's the solution?
It's very simple actually. Instead of showing intrusive pop-up ads upfront, use the exit-intent technology to only show pop-ups when the user is quitting the website.

4. Using Flash
Flash-based websites do look very attractive and sexy, but they are pretty much useless for search engines.
Just like images, search engines do not understand Flash.
In fact, if you create the homepage of your website with Flash, search engine will not see anything on your homepage. How can it index your website if it sees absolutely nothing on the homepage of your website for indexing?
Besides that, Flash-based websites are more likely to encounter unforeseen issues, e.g., navigational issues, extra resource consumption, browser restrictions, etc.

5. Loading Extra Elements
Do you know why minimal designs are so in at the moment?
Because they do not have tons of extra elements on them. Fewer elements lead to a faster website — which search engines definitely want to see.
The loading speed of your website is now an official Google ranking factor. As a general rule, your website should load in the first 2 seconds. If it takes more than that, you have some work to do.
Use the Pingdom Speed Test Tool to identify the loading speed of your website.

Final Words
While design is extremely important, do not let it get in your way to a search engine optimised website.
It does not matter how pretty your business website is, it can't help you generate revenues and sales if it does not drive any traffic. So, focus on the SEO of your website and design your website accordingly by managing a nice balance between the two aspects.