3 organic opportunities for local business SEO
February 13, 2023
0 comments
As a local business, it's important to have a strong online presence to reach potential customers in your area. One way to do this is through search engine optimization (SEO), which can help your website and online profiles rank higher in search results. In this article, we'll explore three organic opportunities for local business SEO that can help to improve your visibility and attract more customers.
These include:
Creating and optimizing a Google My Business profile,
Claiming and verifying business profiles in local directories, and
Implementing a local keyword strategy.
By taking advantage of these opportunities, you can improve your online presence and reach more potential customers in your area.
1. Optimizing the Google Business profile
A Google My Business (GMB) profile can help with local SEO by providing accurate and up-to-date information about a business to Google, which can then be displayed in search results and on Google Maps.
Having a completed and verified GMB profile can improve a business's visibility in local search results, as it allows the business to appear in the "Google Maps" section of the search results.
This can increase the chances of being seen by people searching for businesses in the area, and can also help to improve the overall online presence of the business. Additionally, GMB allows posting updates, photos, and special offers to the profile, which will help to keep the information fresh and attract more customers.
A word of caution, however.
You have to be targeted and specific when optimizing your Google Business profile. Otherwise, it's easy to get carried away.
One example of that would be the inclusion of categories.
You should include only relevant categories that best define your local business. Adding too many and/or irrelevant categories will lead to negative results, as Darren Shaw, founder of WhiteSpark, highlights.
https://twitter.com/DarrenShaw_/status/1089919297432969216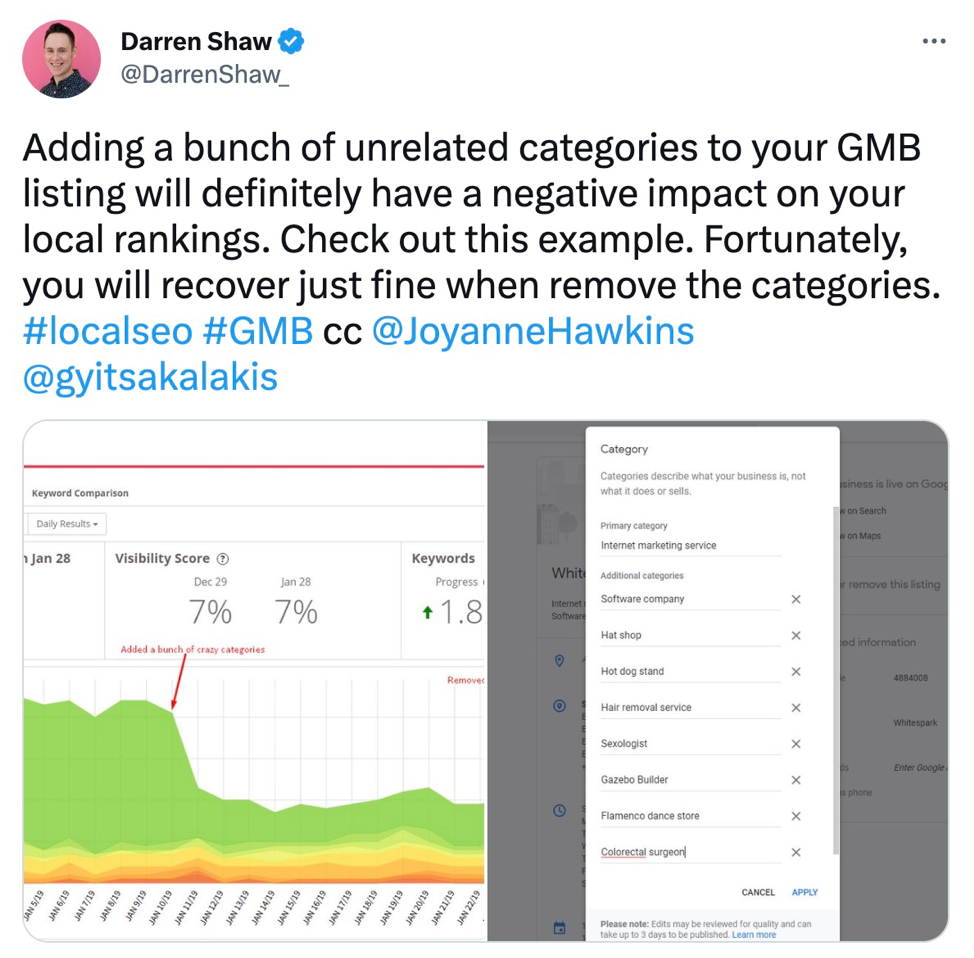 2. Claim your business profile everywhere else
Claiming business profiles in local directories, such as Yelp, TripAdvisor, and Yellow Pages, can also help with local SEO. By claiming and verifying these profiles, businesses can ensure that their information is accurate and up-to-date across multiple platforms.
This can improve the visibility of the business in local search results, as these directories often appear high in search results for local businesses. Additionally, having a presence on these directories can increase the chances of receiving positive reviews and ratings, which can also improve visibility and credibility in local search results.
It's important to note that it's also beneficial to keep the information consistent across different directories, including the business name, address, phone number, website, and hours of operation. This will help to create a coherent and consistent online presence for the business, which can improve its visibility in local search results.
Read more about the importance of NAP consistency across the web and why it is important for local SEO.
3. Use a local keyword strategy to guide your content and SEO efforts
A local keyword strategy is a method for identifying and targeting keywords that are relevant to a specific geographic location. It can help businesses to improve their visibility in local search results by making sure that their website and online profiles are optimized for the keywords that people in their area are searching for.
There are a few key steps to creating a local keyword strategy:
Research: Identify the keywords and phrases relevant to your business and the local area. This can be done using tools like Google Keyword Planner, SEMrush, or Ahrefs.
Identify local keyword variations: Identify variations of keywords that include the name of the city, state, or region you are targeting. For example, "pizza delivery in Bristol" or "best Chinese restaurant in Lancashire".
Optimize your website: Use the keywords you've identified in your website's title tags, meta descriptions, headings, and throughout the content on your site.
Monitor and adjust: Monitor your website's performance in local search results and adjust as needed.
By implementing a local keyword strategy, businesses can improve their visibility in local search results and attract more customers in their area.