The April 21st Mobilegeddon: Here's What the Impact Looks Like
If you have been following our blog, by now you probably know every detail about the April 21st "Mobilegeddon".
For those who just want a quick recap, it is arguably the largest mobile-friendly algorithm update by Google.
In a nutshell, the April 21st "Mobilegeddon" was supposed to push you (as website owners) to make your websites more mobile friendly.
On the other hand, it was also supposed to penalise the websites that are not mobile compliant and do not have a user-friendly mobile experience.
The update was scheduled to roll out on April 21st … and it did. The impact, however, has not been very prominent.
Why is that?
It's only logical that the impact of this update will take some time before becoming more visible. According to Google's John Mueller, the full roll out can take a week or more. So, as a webmaster, if you haven't seen any noticeable impact on your website traffic, stay patient. It's coming soon!
Here is what John Mueller said:
"It's definitely rolling out. I know in some of the data centers, it is already rolled out completely. So that is something where I think you will probably see that change over the course of a week, maybe a week and a half — something like that.
From the first day to the next day, I do not think you will see a big change. But if you compare last week to the next week, then you should see a big change. And I have seen some blog posts out there have noticed it is different, and tried to document the difference between the desktop results and new mobile results. So there are definitely people noticing it."
And it is true. Some websites are noticing the result.
For instance, SEO Clarity has been showing the impact they had after this particular mobile update, and the effect is very clear.
Here is a screenshot of their database.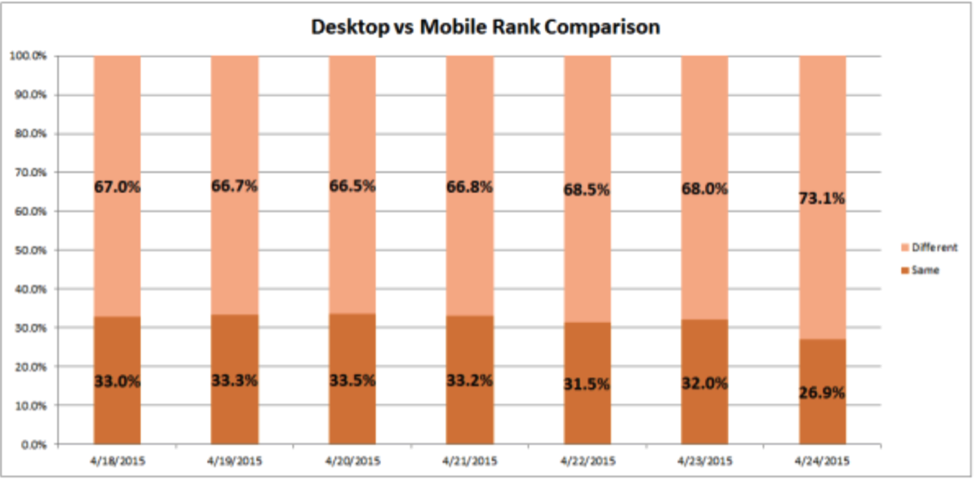 As you can see in the above image, the difference is definitely becoming more noticeable. And, with the passing time, they are now seeing a 5.1% variation in their results. That's a big difference!
Final Words
So if you haven't noticed the impact of this latest mobile-friendly update, sit tight. You will see it sooner rather than later.
And don't forget to compare and evaluate your results and take the necessary steps to minimise the damage — if any.