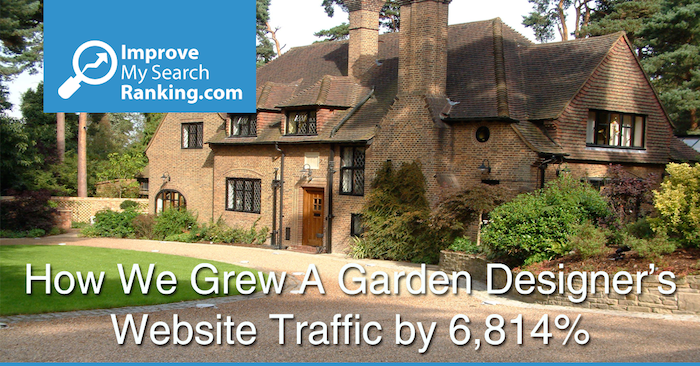 How We Grew Oakleigh Manor's Website Traffic by 6,814%
Lets face it, we'd all like our websites to perform better in regards to the amount of traffic and sales they generate. Wouldn't we all love our websites to produce a steady stream of new business enquiries on auto-pilot?
This is a story about how we helped turn Oakleigh Manor's web-presence from 32 visitors a month and 2 business enquiries in 6 years into a lean, mean, traffic and lead generating machine! Today, Oakleigh Manor's website receives over 2,000 hits and produces on average 35 enquiries every month.
Before we go into any more detail lets first introduce Oakleigh Manor. Oakleigh Manor is a multidiscipline garden design company based in Kent. Established in 1996 the firm provides the highest quality garden design and landscaping services in the UK and over the years have won numerous industry awards and accolades.
Back in December 2012 their website received a total of 32 visits and 0 enquiries.


This exceedingly low number of visits is hardly what you expect of an awarding winning company, is it? This is when we got involved  and began turning Oakleigh Manor's web-presence in to a real business asset. Considering the profit per sale Oakleigh Manor make on each job, generating and converting just one lead from the website more than pays for cost of our marketing solution. It is fair to say the return on investment is extremely high!
Conversion Optimisation
Oakleigh Manor's website was not in an awful state from an aesthetic point of view. However, it was lacking from a "Conversion Optimisation" perspective. Simply put, the website didn't do a good job of getting the visitors on the website to get in contact with the company's sales team. To rectify this a new website was designed and built with a keen focus on increasing conversion rates. Here are some of the concepts we implemented;
Individual pages for each service
Clear calls to action (CTA) on every service page
Individual enquiry forms on each service page
Portfolio of work for each service
Testimonials for each service
Individual Pages for each Service
It is important for a number of reasons that a single page on a website deals with only one subject matter, especially for those pages that you want to convert visitors into customers. Firstly, it focuses a user's attention on one topic. Secondly, it allows you to include the rest of the best practice advice mentioned in this article! Read on…

Clear Call To Action
What do you want your website visitors to do? Tell them. This is what a call to action is. Throughout the Oakleigh Manor website CTAs are placed strategically to push visitors to contact Oakleigh's sales team.



Without clear CTAs prompting action from your visitors they are unlikely to contact you.

Individual Enquiry Forms
The CTAs on each individual service page on the Oakleigh Manor website (e.g. garden design page, swimming pool page, irrigation system page, etc.) all link through to a bespoke enquiry form just about that particular service. These bespoke enquiry forms have proven to be extremely successful compared to sending a visitor to a generic contact form. In fact, conversion rates increased by over 300% when we implemented this change on the Oakleigh Manor website.

Portfolio
What better way to get customers to contact you than to show them the best examples of the work you've done in the past? We built the new Oakleigh Manor website in a content management system (CMS) which  allows any employee at Oakleigh to log-in to the website and upload a new project to the portfolio (if they have been given permission to). After each project is finished images are taken of the job and they are uploaded to the website.
If you can show you've done a great job for someone else and have a large portfolio of projects, website visitors will believe you are trustworthy, reliable and worth buying from. This is working on visitors from a psychological level and is often called "Social Proofing" . A visitor may think to themselves; "if all these other people have used their service, they must be good!".

Testimonials
To add to the above, testimonials reinforce the message that your business is trustworthy and reliable. Gather as many testimonials from happy customers as you can and place them on the pages you want your visitors to convert on.


After designing and building the new Oakleigh Manor website with the above in mind we then switched our attention to increasing the amount of traffic the website receives. If you remember, back in December 2012 the Oakleigh Manor website only received 32 visits. This had to change.

Search Engine Optimisation
In our bid to increase traffic to the new website we utilised a marketing strategy that would only deliver interested website traffic. This is achieved by getting a website listed on Page 1 of Google for "keyword phrases" or "queries" that relate to a business' offering. In Oakleigh Manor's case, this would be keyword phrases such as  "garden design and landscaping services in Kent".
This marketing strategy is called Search Engine Optimisation (SEO) and differs from buying adverts on Google (adverts on Google are referred to as Pay Per Click (PPC)).
The benefits of using SEO include;
People searching for your products or services will find you . If you are listed on Page 1 you can take advantage of the demand.
Increased brand awareness
Future proofing your business (who uses the Yellow Pages anymore?)
Getting 1-step ahead of your competitors
How We Ranked Oakleigh Manor on Page 1
There are a number of best practices one can implement to improve a websites visibility in Google. These best practices are split-up into two disciplines; On-Page SEO and Off-Page SEO.

On-Page SEO
This relates to all the code on your website and how it has been structured. This includes; heading tags, title tags, image file names and alt text, internal link structure, URLs, use of bold and italic text plus a whole host of other factors.
Check out our On-Page SEO best practice guide for more detailed information and an explanation on how to optimise each of the factors on your own website, or read on and see if you can take what we have done for Oakleigh and apply it to your own business.
We began our On-Page SEO work by researching what "keyword phrases" search engine users type in when looking for garden design services.
We selected a group of keyword phrases for each service we wanted to advertise. For example "garden design kent", "garden designers in kent", "creative garden design in kent", etc. for the Garden Design page. We selected at least 5 phrases for each individual service Oakleigh Manor offers.
Finally, we then implemented our On-Page SEO best practice advice (beginners guide – advanced guide) by adding the keyword phrases into the relevant part of each service page.
Off-Page SEO
Off-Page SEO is all about how many backlinks and citations your website has from other sites on the web. In short, a backlink or a citation is a hyperlink or mention of your business' website. The more links a website has pointing at it from other websites, the more chance it has of appearing highly on Google's Search Engine Results Pages. Having said that, its not quite that simple. Factors such as Domain Authority and Trust Flow (terms coined by Moz and Majestic SEO respectively) also come into play.
The age-old question asked about Off-Page SEO is; "How can I get a link from another website?". Well there are many answers to this question, my friend. Various opportunities exist on the web where you can "build" a link back to your website. For example, do a search on Google now for directories in your local town or industry. You'll be sure to find a directory website where you can leave a link back to your website.
Another link building strategy might involve you writing a "guest blog post" for another website.
Further strategies could include creating an awesome piece of content for your own website and other website owners deeming it so good that they want to share it with their website visitors too.
In fact, there are 100's of link building strategies out there.
For Oakleigh Manor we focused on the creation of a large number of local citations and links from high quality magazine style websites that are focused on garden design. We enticed other webmasters to link from their site by providing valuable content such as blog articles, infographics, videos and other valuable and engaging content. In some instances, such as Oakleigh winning gardening awards or starting a new type of service, we released press articles and contacted local news companies. This is just another example of how we got a link from another website pointing to the Oakleigh Manor domain.

Results
Phew! Well that's how we got Oakleigh Manor to the top of Google and increased their website conversion rate from 2 leads in 6 years to 35 a month!!
Here's a screenshot from Google Analytics for March 2014



2,086 visits in one month is pretty nifty, even if we do say so ourselves! 35 email enquires +many more phone calls = a lot of new business! And the best thing is Oakleigh Manor leave everything to us. They don't need to lift a finger and 100's of potential new customers come knocking on their door.
Finally, take a look at some of the ranking positions we have achieved in the last year for Oakleigh Manor.
| | |
| --- | --- |
| Keyword | Current Rank |
| Garden design in Kent | 1 |
| Resin gravel Kent | 1 |
| Garden designers in Kent | 1 |
| Creative garden design Kent | 1 |
| Garden lighting design Kent | 1 |
| Resin bound gravel surfaces Kent | 1 |
| Automated and electric entrance gate Sussex | 1 |
| Landscape lighting design Kent | 1 |
| Automated and electric entrance gate Kent | 1 |
| Oak frame car barns | 1 |
| Resin bound gravel surfaces Essex | 1 |
| Resin bound gravel surfaces Sussex | 1 |
| Landscape design and build Kent | 2 |
| Resin bound gravel surfaces Surrey | 2 |
| Garden Designers and Landscape Designers Kent | 2 |
| Garden designers Kent | 3 |
| Landscape Designers Kent | 3 |
| Garden design Kent | 3 |
| Automated and electric entrance gate Essex | 3 |
| Landscape designers in Kent | 4 |
| Garden designer Kent | 4 |
| Irrigation systems Kent | 5 |
| Kent driveways | 5 |
| Garden maintenance Kent | 5 |
| Landscape gardeners Kent | 6 |
| Landscaping in Kent | 6 |
| Driveways in Kent | 7 |
| Driveways Kent | 7 |
| Gardening Maintenance Company Kent | 7 |
| Garden lighting design Essex | 7 |
| Garden landscaping Kent | 8 |
| Landscaping gardening Kent | 8 |
| Garden maintenance services in Kent | 9 |

By Josh Hamit @hamit