Google has recently confirmed that it ran a local search ranking update, which is now being referred to as the November 2021 Local Search update. 
The update ran between November 30th and December 8th.
So if you noticed any significant changes — positive or negative — in local search rankings between November 30th and December 8th, you now know the reason.
Here is the tweet by Google confirming the November 2021 Local Search update:
"Our November 2021 local search update has concluded. It began [on] Nov 30 and ran through Dec 8. It involved a rebalancing of various factors we consider in generating local search results. General guidance for businesses remains the same as covered here: https://t.co/uyXFfmUEIR"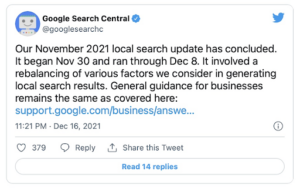 The November 2021 Local Search update overlapped with other ranking updates as well as a design interface update for Google Maps and local pack. Both these changes at the same time may have resulted in traffic and ranking changes for either your business or your clients' businesses. 
Because the timing overlapped, it might be difficult to identify exactly what led to how much change.
Google's Local Search ranking factors
In the announcement tweet, Google mentioned that the update involved "a rebalancing of various factors we consider in generating local search results."
That's why it would be a good idea to revisit what ranking factors Google focuses on for local search results. The three main categories are:
Relevance

.  Relevance refers to how well a local business matches the searcher's query.  For instance, despite the proximity, a search about a flower shop won't rank a casino in the local search results.

Distance

.  Because local search results are more focused on location, the distance of the business is another important factor that Google considers. Despite how relevant the query is, it is unlikely that Google will prioritize a business that is in another state.

Prominence

.  Lastly, Google also evaluates how well known, credible, and popular a business is.
Google has never shared the exact details of how much weight it gives to these different search engine ranking factors. However, now that Google has "rebalanced" these factors, it is a good idea to just revisit how well your business ranks for each of these factors and work on the shortcomings. 
For instance, if your business already performs well in the relevance category (e.g., proper keyword optimisation and category selection), perhaps it's the right time to focus on another category, such as prominence, by improving user reviews.
Alice
Free ebook: "Most Comprehensive Local SEO Guide: 2020 Edition" (Valued at £99)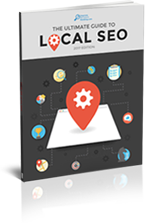 This free ebook will teach you, step by step, how to improve your Local SEO so you can start generating more traffic and sales for your business.
---
100% Privacy. We will never spam you!