Facebook to Introduce Data-Friendly 'Instant' Videos
September 25, 2017
0 comments
Although Facebook started as a website to connect college friends, it soon took off and became a paradise for content creators, social media marketers, and digital media advertisers.
Today, there are so many opportunities to create, curate, and share content on Facebook, reach out to new prospects, leads, and customers, and expand your business's reach on the Facebook platform.
Moreover, if you have been involved in Facebook marketing in one capacity or another, you must know that earlier it was all about text-based Facebook posts. Then the dynamics of content shifted, and images took over. However, in the recent past, the trend has been shifting again — this time, from images to videos.
Facebook also has been actively trying new things to accommodate more and more videos. The latest attempt seems to be in the form of 'Facebook Instant Videos'.
These 'Instant Videos' are going to be data-friendly, which means you will be able to watch these videos without consuming any data from your mobile plan?
How is that possible?
Well, when you are using Facebook with a WiFi connection, Facebook will download and cache some of these videos in the background. Once you are on a cellular network, these pre-loaded 'Instant Videos' will become available to you that you would be able to watch without consuming your data plan.
Facebook 'Instant Videos' will be easily recognizable with a distinct look — a lightning bolt icon that is very similar to the AMP and Facebook's Instant Articles.
Here is how a Facebook Instant Video would appear on the screen.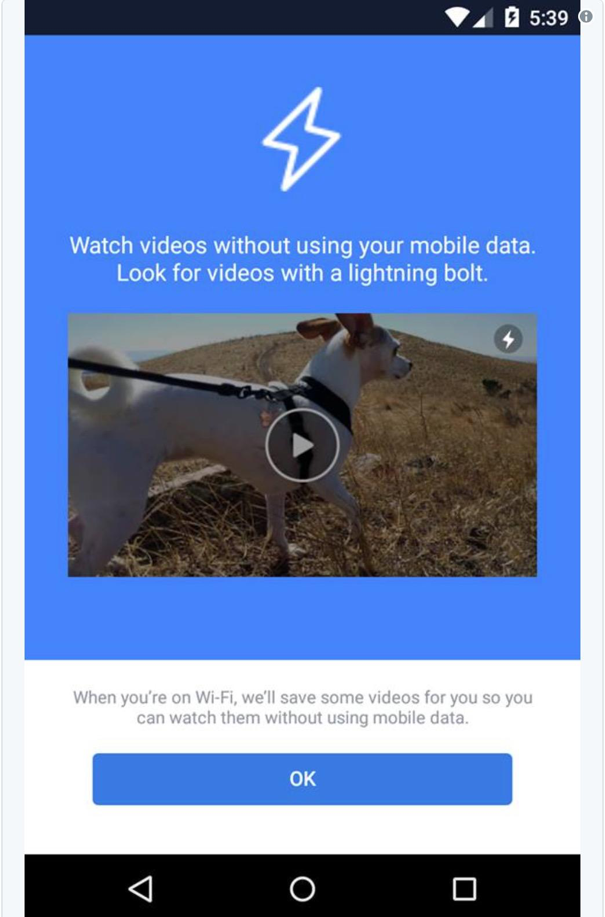 At the moment, it is not clear if videos ads will be also cached and made available to Facebook users when they are using a cellular network. It does sound tempting to take the next step for Facebook advertisers, so it is still on the cards.
However, for now, content creators and organic marketers would love this new feature!
With Facebook Instant Videos, content creators are expected to dramatically increase views and engagement.
At the moment, we don't have a clear release date for when the feature will be made available across the globe. But we are happy to know that it is going to be released soon.