Early Results of Expanded Text Ads Are Here
August 9, 2016
0 comments
Google recently announced expanded text ads, which are supposed to be bigger than standard text ads that so many of us are used to.
When Google introduced expanded text ads, it claims that the results could be as much as 20% better when compared with the standard ads. Merkle Inc. participated in the early beta ad program and has now come up with a report of early results of expanded text ads, their performance, and increment or decrement in the CTRs and overall results.
Let's see how did the expanded text ads perform in comparison with standard text ads.
The agency analysed the results into two different categories:
Brand traffic
Non-brand traffic
And the results are fairly different for both of those categories.
According to the report, for non-brand queries, the CTR rose up by as much as 16%. It is not quite 20% (which was being initially anticipated) but it is still very close to the original guess.
However, an important point to note here is that the 16% rise in CTR was for the extended ads on desktops. Tablet devices only saw a rise of 8% and mobile devices experienced only 4% increase in CTR. Moreover, on certain devices, some advertisers also experienced a relatively lesser CTR.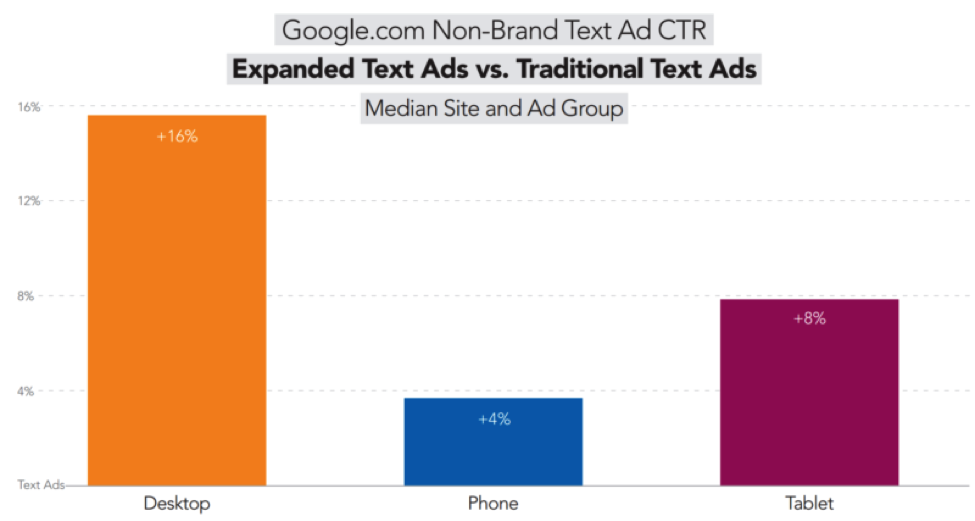 Brand traffic, however, displayed a very different story.
The click-through rate (CTR) wasn't affected for tablet devices. However, for mobile devices and desktops, the CTR actually dropped for expanded text ads by 4% and 1% respectively.
These are still early results and they may not present the complete picture as transparently as possible. ETAs or Expanded Text Ads are now available to all advertisers and we will be able to see how they perform over the next few months.
We will keep you updated if any new reports surface up.