How Big Was Google's June 2019 Core Update?
Google's June 2019 core update is a big one, and the effects of that update were felt across the web by large and small websites alike.
When Google announced the core update, it was mentioned that the update wouldn't be a "big" one when compared to previous core algorithm updates.
However, the data that has been gathered so far shows a slightly different picture. Some websites gained traffic and rankings, while for others traffic dropped significantly.
Sistrix shared the data they got in a blog post. Here is what it shows.
As you can see, there is a jump in traffic for some websites. According to Sistrix, "today's data clearly shows the impact of the core update. In the daily Visibility Index of the Toolbox, you can see changes from 05.06. on 06.06."
According to data presented by Sistrix, here are the top 10 UK websites that gained more visibility after the core algorithm update.
On the other hand, the following are the top 10 websites that significantly lost visibility after Google rolled the June 2019 update.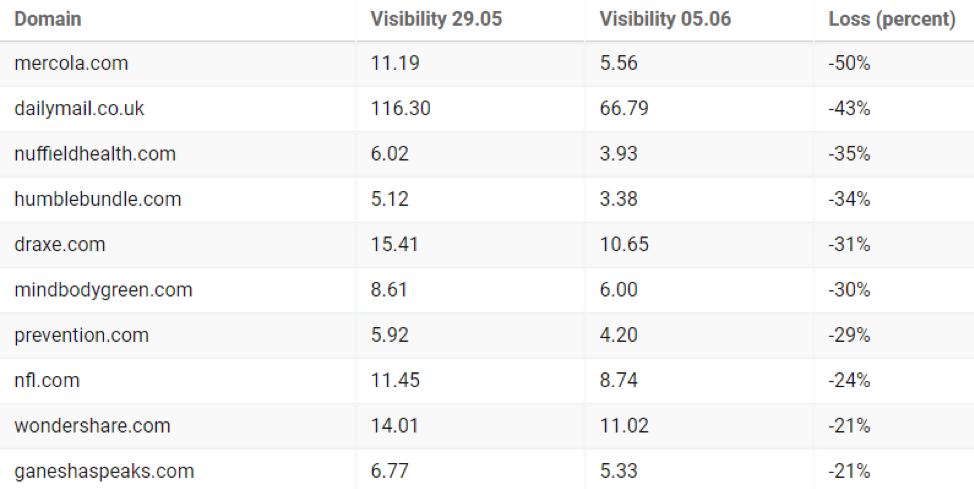 Steve Paine from Sistrix mentioned, "We are seeing many YMYL websites, but there are also classical news sites, retail, and many others. It appears that this Google Core Update is broader than the last updates."
How to fix the problem?
If you have a website that is affected by this core algorithm update, Google's John Mueller has some advice for you. However, it is not very specific.
John mentioned that core algorithm updates are not about a specific issue (relevance, for example) that the webmaster can fix. Here is what he said:
"With a lot of the relevance updates, a lot of the kind of quality updates, the core updates that we make, there is no specific thing where we'd be able to say you did this and you should have done that, and therefore we're showing things differently."
He also added, "Sometimes the web just evolved. Sometimes what users expect evolves and similarly, sometimes our algorithms are, the way that we try to determine relevance, they evolve as well."
Focus on quality
At the end of the day, quality is all that matters. Make sure you are focusing on quality as much as you can, and your website will be safe from most core algorithm updates.
For more detailed information on what 'quality' means, refer to this article by Google in which the author poses several questions that you should ask yourself to determine if you have a "quality" website as per Google's standards.