6 SEO and Content Marketing Tools You Can't Live Without
"SEO tools? But don't they get you penalised in the search engines?"
This is a common myth that needs to be busted.
In fact, there is absolutely nothing wrong with using good, effective tools that make your life easier and your SEO more efficient.
There are various SEO and content marketing tools that bloggers and online business owners need. Moreover, in this competitive online world, you need good tools to help your online marketing, SEO, and content marketing efforts.
In this post, we list down 6 SEO and content marketing tools that you should check out. Each of these tools makes your life easier by giving you valuable information.
So let's see what these tools are:
1. BuzzSumo
BuzzSumo is a relatively new addition to the "professional content marketers tool-kit", but it has soon become one of the most valuable tools in the set.
What is BuzzSumo? Simply put, it allows you to discover viral social media posts in any niche. Once you have a list of socially popular blog posts, articles, or infographics in your specific niche, you can use that information and do a lot of useful things.
For instance, here is an example.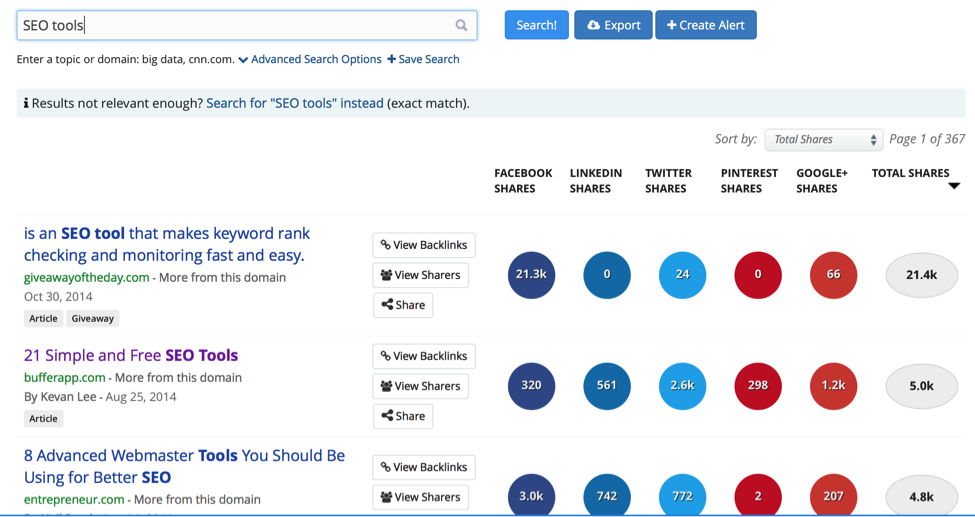 In this example, I used BuzzSumo to research the keyword "SEO tools".
BuzzSumo searched and showed some of the most popular blog posts with my keyword.
Now, you know what went viral on social media websites.
For instance, the 2nd post in the image is titled "21 Simple and Free SEO Tools".
You now know a proven headline model that worked in your niche. Secondly, you know if you can extend that list and include even more simple and free SEO tools, your post will have great chance to go viral on social media websites.
2. QuickSprout
QuickSprout is a very simple yet highly effective tool developed by the famous internet marketer, Neil Patel.
It's a very simple SEO tool that analyses your website, highlights what you're doing wrong, and gives very specific suggestions on what you should be doing instead.
Following its suggestions, you can not only improve your website's SEO and usability, but you can also increase the number of search engine traffic you usually receive.
3. Emotional Headline Analyser
"People don't buy for logical reasons. They buy for emotional reasons." — Zig Ziglar.
This is one of the most important tips you'll ever hear in the online marketing field. The competition is fierce and there are so many products and services out there that it seems almost impossible to stand out from the crowd.
You need to trigger certain emotions in your target audience to get yourself noticed.
Emotional Headline Analyser is one such tool that identifies the emotional value of your content's headline. Based on its evaluation, you can improve the headline and make it more interesting, engaging, and emotional.
The metric may seem a bit confusing. But if one of your headlines is getting is an EMV of 22 or more, consider it as a good headline that can be used.
4. TrendSpottr
What if you could predict a trend or a topic that is about to go viral?
Theoretically speaking, if you can foresee a certain thing, it becomes much easier to be successful at it, right?
This is the kind of power that TrendSpottr gives you.
It isn't cheap. It costs $199 per month — which, I understand, is a lot of money. But if play your cards right, you can make more than enough money by using this wonderful tool. Besides that, TrendSpottr also gives you a 14-day free trial to test the waters.
TrendSpottr helps you see trending topics, and share, engage, and connect with other top influencers directly from the dashboard.
5. PowToon
Have you seen those wonderful animated videos and presentations with absolutely no idea how to make them for your own business?
You do it with PowToon.
It's a wonderful little tool that helps you create really amazing animated presentations or videos. If you are a content marketer, you should know the importance of visual marketing. It can have amazing results!
Moreover, YouTube is one of those social media websites that most business owners and, especially, bloggers completely forget about. With such a tool at your disposal, you can leverage a website like YouTube and open a totally new door of targeted traffic and potential customers.
6. Pingdom Website Speed Test
You may not be aware of it, but a website's loading time is now an official search engine ranking factor.
Different websites may have different metrics, but if your website takes more than 2 seconds to load, then you have to improve it. Otherwise, you will never be able to get ranked on top of the search engine results pages.
The Pingdom Website Speed Test Tool is a great SEO tool for you that not only determines your website's loading speed, but also gives you valuable suggestions and actionable tips to improve it.