The 21st April 2015 Mobilegeddon: What Steps Should a Small Business Owner Take?
April 14, 2015
0 comments
The clock is ticking and April 21, 2015 is almost here.
Google will soon roll out a huge algorithm update.
Are you ready?
I've already written about this a couple of times, but if you are still not aware of what is happening, let me quickly break it down for you.
There's good and bad news…
The bad news is that on April 21, 2015, Google is going to roll out an update. According to this new update, every website should be mobile-friendly and mobile-compliant. If a website isn't mobile-friendly in accordance with the new update, Google will penalise it in the search engine results pages on searches made from mobile devices.
On the other hand, the good news is that unlike most of the time, Google is actually telling all of us about this update before it happens!
In this post, I'm not going to go into the details. Because, let's face it, you are a small business owner with no intention of becoming a mobile SEO expert. So what do you need?
You need step-by-step instructions of what to do in order to save your online business and its search engine position. Obviously, you do not want to be on the wrong side of Google!
So let's get started.
1.  Determine the Risk
First of all, you should determine if your website is at a risk of getting penalised. I've compiled a list of a few tools that will help you determine where your website stands.
Here are the tools you should try:
1. The Mobile-Friendly Test Tool: This is a wonderful little tool that helps you see your website as Google bots would do.
2. Google's Page Speed Insights Tool: Unlike the above tool, this one helps you see your website as your website visitors would see. It helps you evaluate your website's mobile page speed, and it also gives you a few tips on how to fix and improve your website in this regard.
3. Mobile Usability Report: With this tool, you can see specific issues with your website and how to fix them.
Once you have identified if April 21, 2015 is going to be a problem for you or not, let's move on to the next step.
2. Don't Panic
Even if you see a whole lot of problems with your website, it is important not to panic. Let me explain the reason why.
You see, mobile traffic is growing at a very good rate, but it has still a long way to go. Besides that, for every website the amount of mobile traffic is going to be different.
You may find out that only 1% of your traffic comes from mobile devices! So panicking at this stage is really not a good option.
3. Identify Your Potential Loss
The next step is to identify your potential loss in case everything goes awry.
As a small business owner, you might not be aware of how much mobile traffic your website receives. That's not a problem, but it is as good a time as any to go to your Google Analytics account (assuming that you have been tracking your traffic via Google Analytics) and find out the amount of mobile traffic you have.
Navigate to Audience > Mobile > Overview. There you will see the entire breakdown of your website traffic into three categories: desktop, mobile, and tablet.
Here is an image.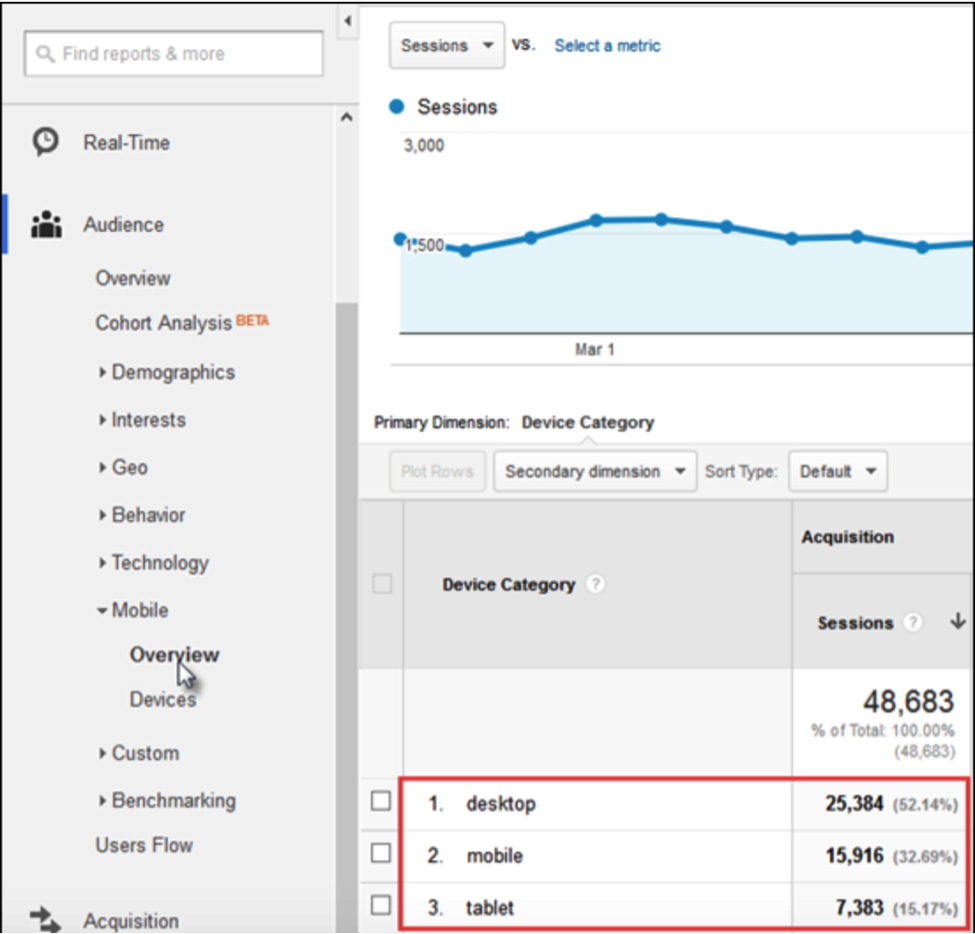 4. Start Fixing It
Once you have determined the amount of organic mobile traffic is enough to have a significant impact on your website, it is time to start fixing it.
Following are a few steps to quickly fix the problem:
1. If you have a web developer and an SEO expert at your disposal, it will be a good time to seek help from those professionals. Since you already have a good idea of the amount of mobile traffic you receive and the kind of loss you will be suffering because of that, you can easily spec out the budget.
2. If you are looking for a quick fix, and if your website is using WordPress for it CMS, you can use a plugin like WpTouch.
3. You can also use the recommendations you got by using Google's tool and apply those fixes exactly.
More importantly, the key is to make your website mobile-friendly for future. Mobile searches are growing at a rapid pace and it is expected to grow at a more aggressive speed in the near future. So if you are thinking of just getting a quick fix, it is not going to be enough in the long run. You will have to make your website mobile-friendly for future. If it takes some time, no problem. Just make sure you set your eyes to that goal.
And until then, the above-mentioned tips and tools will help you save from the wrath of Google!