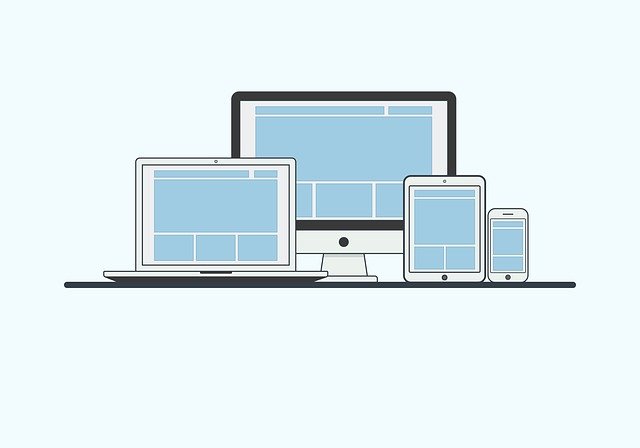 H1 heading tags: How to correctly use H1 in SEO
H1 heading tags have been used for search engine optimisation purposes for decades now. It is among the first things that SEOs started using to highlight important keywords and inform search engines what a web page is about.
H1 heading tags are still used as one of the key things to optimize on a web page.
However, its use has some confusion. More specifically, there is an argument over how many H1 heading tags can be used on a web page. There is also some doubt regarding its importance and whether or not Google still uses the H1 heading tag to determine what a web page is about.
In this article, we will:
Discuss more about the H1 heading tag and its uses,

Share results of a recent survey by SEO professionals indicating their opinions on how to use the H1 tag,

See what Google has to say about the H1 heading tag, and

Share our recommendation on what you should do in case you are not sure.
Let's begin.
---
What is the H1 heading tag?
H1 heading tag normally refers to the main heading of a web page. It is often very similar to the meta title of a web page.
In normal circumstances, it is assumed that the H1 heading tag represents the title of the web page and/or the main contents of a page.
The heading tag is created as <h1>Heading</h1> in HTML.
---
How do SEO professionals use the H1 tag?
As mentioned earlier, there is some doubt regarding whether or not you can have multiple H1 heading tags on a web page. Recently, Cyrus Shepard conducted an online survey on Twitter that showed the following results.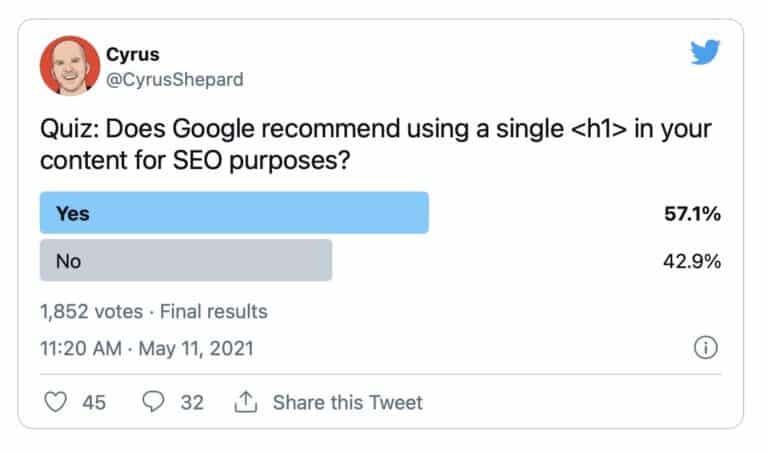 This survey showed that almost 57 percent of SEO professionals believe that only one H1 heading tag should be used per page.
You will notice that most SEO audit tools (e.g., SEMRush and Ahrefs) also recommend using only one <h1> per page.  However, there is a fairly sizable percentage of people who believe that it is okay to use multiple H1 heading tags per page.
So, what does Google say about it?
---
Multiple H1 heading tags and Google's recommendation
Surprisingly, Google does not restrict using just one H1 tag per page. In fact, Google says there is no upper bound or lower bound limit at all. You can use as many H1 tags per page you want, or you can use none at all.
According to Google's John Mueller:
"You can use H1 tags as often as you want on a page. There's no limit, neither upper or lower bound.  Your site is going to rank perfectly fine with no H1 tags or with five H1 tags."
"Our systems don't have a problem when it comes to multiple H1 headings on a page."
Moreover, if a web page does not have an H1 tag, it may still rank for keywords in the H2 title.
When someone asked the same question and confirmed it with John, he responded:
"Of course.  
Will it still [rank for the keywords in H2]? I don't know if it will still but it can. It can, absolutely."
In response to these questions, John Mueller also provided some more context regarding the use of heading tags. He said:
"Headings on a page help us to better understand the content on the page.
Headings on the page are not the only ranking factor that we have. We look at the content on its own as well.
But sometimes having a clear heading on a page gives us a little bit more information on what that section is about."
And this is something that is certainly true. In the early 2000s, when Google search ranking algorithms weren't smart enough, they used to take strong signals from heading tags to determine the content of a page.
But that was a long time ago.
Google is now smarter than ever and is perfectly capable of understanding the contextual meaning of a web page and then ranking it accordingly for the right queries.
---
Our recommendation
For 99 percent of online content, we do not recommend using multiple H1 tags — despite the explicit confirmation by John Mueller.
It is important to understand the role of heading tags in modern-day SEO.  While keyword-rich heading tags may give you an occasional keyword ranking bonus, that is not the purpose of these heading tags anymore.
Headings and heading tags on a web page should be used primarily to structure your content and to improve the readability experience of your website visitors.
The right heading structure can also help search engines understand the content and various sections of your web page — especially for long-form content.
Any keyword ranking bonus is just that … a bonus. Therefore, it should not be the primary focus.
And most web pages tackle a single topic, which should be represented by a single H1 heading tag. 
Let us know what you think about H1 heading tags and how heading tags should be used in modern-day SEO.