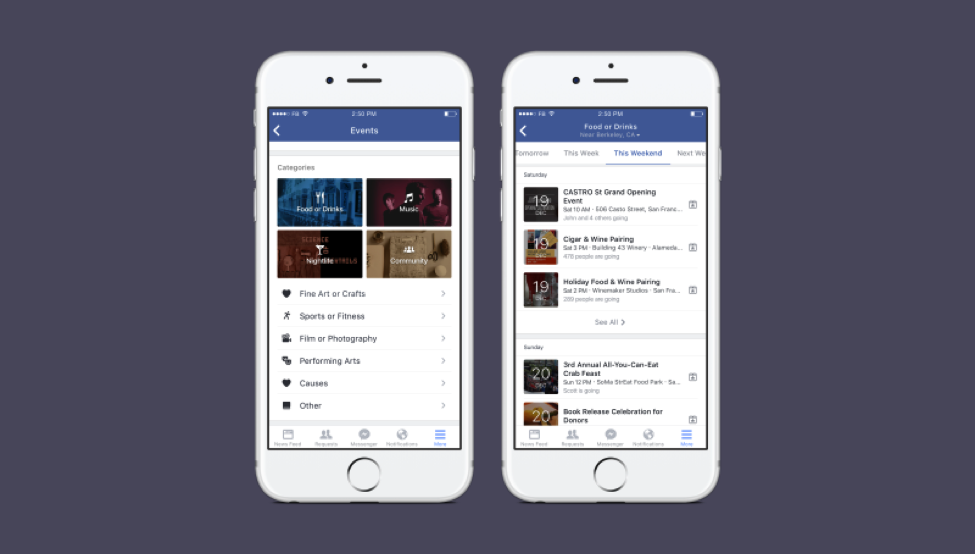 Facebook Launches Events Discovery for iOS Users
December 24, 2015
0 comments
Facebook can be thought of as a huge database of what people like and do.
For such a website, a strong and functional Events product seems only logical. However, until now, the Events system in Facebook has been, sort of, a sleeping giant.
But recent indications suggest that all this might change soon.
According to a latest iOS update, Facebook has introduced an 'Events Discovery' option for iOS users to help them find interesting nearby events. With this new discovery feature, iOS users will be able to see different events sorted in different categories, e.g., music, nightlife, food and drink, sports and fitness, etc.
This seems a very interesting and practical feature to have. However, as of now, the feature is only available for iOS users who are residing in the 10 major cities of United States.
Right now, the feature is only available to these cities:
New York
Houston
Miami
Seattle
Dallas
San Francisco
Boston
Washington, DC
Chicago
Los Angeles
It is expected that more cities will be added to the list when the features rolls out to Android and other devices. Nevertheless, it is a great step to revamp and reignite the Events segment of Facebook — which has gone largely unnoticed by the company.
However, the good thing is that they have acknowledged that it needs a lot of work.
Facebook's product manager, Aditya Koolwal said:
"We have a good sense of how people look for things to do. The social signals we have, the friends who are interested in going, the friends you can potentially go with — that is our bread and butter, we are going to try and take advantage of that as much as we possibly can as we roll out more discovery features."
The future of Facebook does look promising with it, doesn't it? We are hoping to find out more updates about it. Let's keep our fingers crossed!