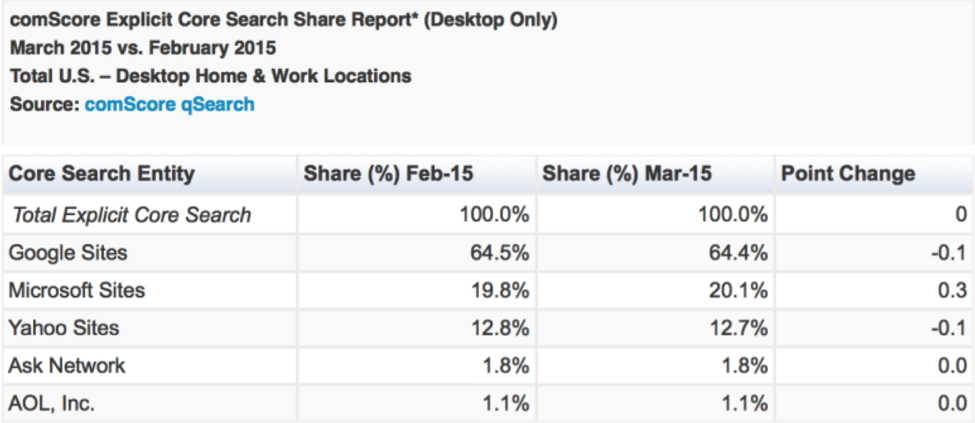 Bing Reaches New Milestone: Acquires 20 Percent Search Market Share in U.S.
April 22, 2015
0 comments
Every online business optimises their website and content for Google. After all, it is a good idea and a proven method to get more organic traffic.
However, if you are completely ignoring Bing and its latest updates, you may be losing a lot of targeted traffic and potential customers.
According to recent updates, Bing has reached a new milestone by acquiring 20% of the search market share in the United States of America. It's a big achievement considering that the direct competitor of Bing is the mighty Google.
It may be interesting to note that although both Yahoo and Google have lost their share to Bing, a large part of Bing's success came at the expense of Yahoo.
Bing was introduced on June 2009. And in May 2009, Yahoo had exactly 20% market shares as Bing has now. It means these two companies have almost traded places.
As of today, Yahoo's market share is 12.7%, which was actually boosted by Yahoo's deal with Mozilla Firefox and its numerous attempts to make the Firefox users convert their default search engine from Google to Yahoo.
Who knows maybe with a few more similar tactics, Bing may even surpass the 25% threshold in the U.S. search engine market share!
Here is a chart of all the major search engines with their respective market shares.
But if you are an online business working in the United States of America, this is important news for you, which may or may not have a big impact on your overall search engine strategy.
The Bottom Line
With the April 21st "Mobilegeddon" now passed, you might see an unwanted downfall in your total search engine traffic — more specifically, the search engine traffic you receive via mobile devices and tablets. And if you have not been paying sufficient attention to Bing and its various search engine ranking algorithms, this loss may be even magnified. You do not want that!
So maybe it is the right time to evaluate your search engine strategy, organic traffic from specific search engines, search engine ranking page, and, most of all, your mobile-friendly website.