July 6, 2020 by Naim
COVID-19 has changed the outlook for businesses, online marketing, advertising, and consumer behavior. However, contrary to common assumption, SEOs' workload has actually increased during the COVID-19 period so far. 
This information was revealed after Google's Gary Illyes posted a Twitter poll. The poll results were discussed in Google's Search Off the Record podcast.
Here is the poll that Gary Illyes started on Twitter.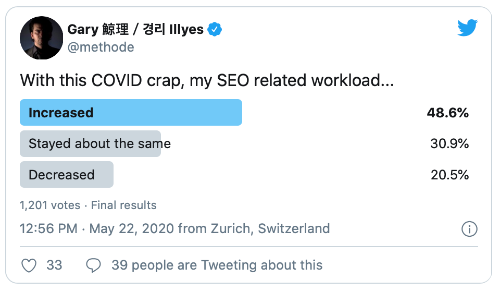 Naim
Free ebook: "Most Comprehensive Local SEO Guide: 2019 Edition" (Valued at £99)
This free ebook will teach you, step by step, how to improve your Local SEO so you can start generating more traffic and sales for your business.
---
100% Privacy. We will never spam you!