Here is a truth that you probably don't want to hear.
You can never completely omit 404 errors from your website. It does not matter how hard you try to do that, there will always be some possibilities of broken links. Even if you somehow make sure that all your URLs are working, there is always a possibility that a person might manually type in the wrong URL and land on a 404-page.
You cannot completely wipe out the possibility of 404 pages. However, you can always customize them and use those 404 pages for your benefit.
Why Do You Need to Customize 404 Pages?
Your website visitors see a 404 error when they click on a link that is not available anymore. Broken URLs lead to 404-error web pages.
It is not a pretty sight for any internet user, and most of them quit the site as soon as they encounter a 404 page. Because of this, you not only lose that visitor, but your website bounce rate may also increase.
And when the bounce rate of your website increases, it sends a bad signal to search engines that your website is maybe not good or relevant. As a result, search engines devalue your website and demote it in the search engine results pages. It's a vicious circle. 
Not to mention, Google does not like 404 errors. If a website has lots of 404 errors, it may experience a demotion in the search engine results pages anyway.
So, you see, there is much more at stake here — at least more than what you may have initially expected.
Customizing 404 Pages
How can you customize 404 pages, so they actually benefit you?
There are several ways to do that. Here are a few customization ideas that you can use to customize and improve the 404 pages on your website.
1. Search Bar or Related Posts
A search bar offers your website visitors an opportunity to find what they are looking for.
Most blogs have so many pages and posts that it becomes almost impossible to find the required information without a functioning search bar.
Even if someone has clicked on a broken link and encountered a 404 page, they can always use the search bar to find the information they were initially looking for.
2. Contact Information
Some website visitors usually need to contact the website owner. In such a scenario, having your contact information on the 404 error page is an excellent idea.
This technique works especially well if you use your website primarily for lead-generation purposes. If that is the case, even after encountering the 404 page, your visitor would still be able to contact you — which is exactly what many websites need anyway.
3. Place an Opt-in Form
If creating and building your email list is your primary goal, place an opt-in form on the 404 page. Power up that opt-in form with an enticing offer, such as a limited-time discount or free e-book to encourage more people to sign up.
It's an excellent little technique that can save your website visitors a lot of frustration. Moreover, in the meantime, you will be generating targeted and interested email subscribers. 
It's a win-win solution.
4. Links to most popular pages
There is a reason why certain pages get the most traffic and highest engagement. It is because those pages are good and offer value to your readers.
If you have such web pages that your website visitors love to spend time on, you can include those pages on your 404 error page.
After all, if your website visitors generally like these pages and find them helpful, chances are that the people stuck on your 404-error pages will also like them.
5. Getting Started / Help Center pages
Depending on the type of website you operate, you can also include 'getting started' pages. This is a better option for, say, a blog that teaches people how to earn money online.
On the other hand, if you are a company that offers, say, online software, perhaps a link to your help center will add a lot of value to website visitors who are still looking for answers.
Conclusion
Having a generic 404 page with a big 'sorry' or 'oops' on it doesn't do any good.
However, with a little bit of effort and creativity, you can customize the 404 error page and use it to your own advantage, .e.g, increasing page views and engagement, generating leads, or gaining new email subscribers.
Luke Harniman
Free ebook: "Most Comprehensive Local SEO Guide: 2020 Edition" (Valued at £99)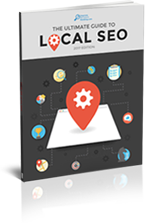 This free ebook will teach you, step by step, how to improve your Local SEO so you can start generating more traffic and sales for your business.
---
100% Privacy. We will never spam you!