Repurposing content is a common practice in the online marketing and digital content world. 
Producing high-quality content is a tough job; it takes a lot of time, effort, and resources to publish informative, engaging, and well-thought-out content on a consistent basis. That is why when content marketers create and publish a high-quality piece of content, they want to use it in as many ways as possible.
That's where content repurposing comes in.
What is repurposing content?
Repurposing content means finding new ways of utilizing your existing content in different forms, mediums, and formats. This allows you to use the same content to reach a different group of the audience — expanding your online reach.
Following are some of the common ways of repurposing content:
Create a video using a blog post, or vice versa

Create an infographic based on the stats and data in a blog post or video

Converting webinars into video tutorials

Creating video tutorials or webinars into customer support articles

Compiling old blog posts into a guide or e-book

Convert internal data into case studies

Convert case studies into video testimonials

Convert visual content into social posts

Convert blog posts into Quora answers and Reddit posts
Repurposing content and potential duplication issues
Repurposing content is an amazing tactic to increase your audience without spending more time creating new content. However, does it lead to potential content duplication issues?
We know that Google does not like duplicate content and penalizes websites that rely on duplicate and plagiarized content.
How does repurposing content fit into it?
Spoiler: Repurposing content into different formats and mediums is fine, and it does not lead to content duplication issues.
We have an official answer from Google's John Mueller on that.
The following question on the impact of repurposing content on possible duplication issues was recently asked:
Question: "I have a YouTube channel with 9,000 subscribers and I also have a blog. Sometimes I write a blog post and use the same text I create YouTube videos with. Is this content duplication because Google can understand videos?
I'm saying that because my two blog posts are crawled but they're not ranking in Google. Even when you put the direct link in Google Search it's not there. Other blog posts without a video are ranking without a problem. Would it help to use a canonical tag, delete the blog post, or delete the video?"
Google's John Mueller clarified that Google understands that different types of audiences may have different intents and search for content via different mediums (search engine / YouTube). Google caters to all such groups and does not consider repurposing content as content duplication.
John also clarified that Google does not analyze the text in videos and searches that text on the web for potential duplication problems.
According to John Mueller:
"First of all, we don't do text analysis of the videos and then map them to web pages. If your video has the same content as your blog post, it's still something different. People sometimes go to Google with the intent to read something, and sometimes they go to Google with the intent to watch something or to listen to something, and those are very different things."
"We would not say the text in this video is exactly the same as a blog post, therefore we don't show either of them, or we only show one of them. So if you have a video that matches your blog post, I think that's perfectly fine."
John also encouraged repurposing content in this case. He said:
"That [repurposing videos into blog posts] is a great way to spread your information in different channels. I would definitely not stop doing that. I would not take the video down or take the blog post down. If the blog post is not ranking in Google, then that would be very specific to the blog post and not specific to the video blog post combination."
How to avoid content duplication
Content duplication issues can also become a problem — especially for big websites. Here are some solutions to content duplication issues:
Creating a canonical link to the original source

Creating redirects to avoid content duplication problems

Avoid writing on topics that are too similar

Focus on creating one in-depth blog post per topic

Having a fixed, predefined sitewide URL structure
Luke Harniman
Free ebook: "Most Comprehensive Local SEO Guide: 2020 Edition" (Valued at £99)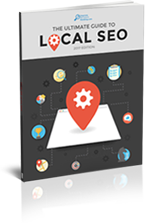 This free ebook will teach you, step by step, how to improve your Local SEO so you can start generating more traffic and sales for your business.
---
100% Privacy. We will never spam you!