May 8, 2014 by Josh Hamit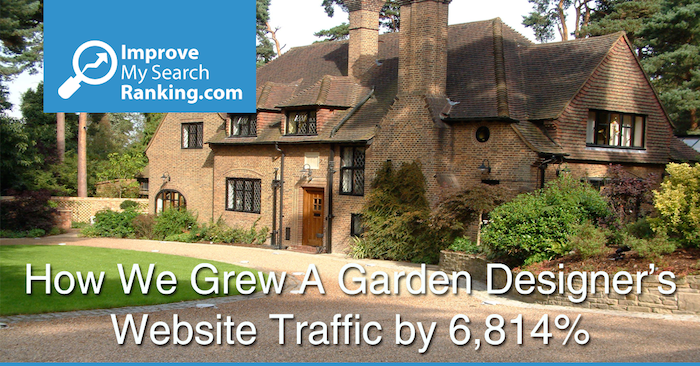 Lets face it, we'd all like our websites to perform better in regards to the amount of traffic and sales they generate. Wouldn't we all love our websites to produce a steady stream of new business enquiries on auto-pilot?
This is a story about how we helped turn Oakleigh Manor's web-presence from 32 visitors a month and 2 business enquiries in 6 years into a lean, mean, traffic and lead generating machine! Today, Oakleigh Manor's website receives over 2,000 hits and produces on average 35 enquiries every month.
Before we go into any more detail lets first introduce Oakleigh Manor. Oakleigh Manor is a multidiscipline garden design company based in Kent. Established in 1996 the firm provides the highest quality garden design and landscaping services in the UK and over the years have won numerous industry awards and accolades.
Back in December 2012 their website received a total of 32 visits and 0 enquiries.



This exceedingly low number of visits is hardly what you expect of an awarding winning company, is it? This is when we got involved  and began turning Oakleigh Manor's web-presence in to a real business asset. Considering the profit per sale Oakleigh Manor make on each job, generating and converting just one lead from the website more than pays for cost of our marketing solution. It is fair to say the return on investment is extremely high! (more…)
Josh Hamit
June 10, 2013 by Josh Hamit
Oakleigh Manor is an award winning landscape design and build practice based in Kent. They offer a range of services including garden design, irrigation systems and oak framed garages.
We started working with Oakleigh Manor towards the end of November 2012 and we were tasked with the development of a totally new website and the challenge of getting their website listed on the first page of Google for all 12 of their key services.
The benefits of having the website listed on page 1 of Google include;
Increased targeted traffic, leads and sales – customers looking for garden design services would be able to find Oakleigh Manor's website.
Increased brand awareness – appearing on the first page of Google will result in more people learning of the business' existence.
Getting 1-step ahead of competitors – there are 100's of garden design companies in Kent, yet there are only 10 places on the first page of Google. 90% of search engine users will NEVER go past the first page of results, therefore having a position on the first page of Google gives Oakleigh a huge competitive advantage over their rivals.
Protecting the future of the company – we all know traditional advertising is dying. When was the last time you used the Yellow Pages? Considering this, it is important to start seeking out new methods of marketing that will work in the future.
Process
After the new website was built and all best practice on-page optimisation principles were implemented an extensive link building and content marketing strategy were drawn up. Within 1 month the Oakleigh Manor website was already ranking in position #1 for search terms such as "oak framed garages".
Josh Hamit
Signup for our newsletter