Most of the time, content marketers and SEO experts are obsessed with the bigger picture and the overall results. Consequently, they miss out on important fixes and smaller tweaks that usually have a huge impact on search engine rankings.
This post is to serve as a reminder of the importance of SEO basics. Here are 8 SEO tweaks you should do to drastically improve results in 2019.
1. Fix your 404 errors
Nobody likes 404 errors. They destroy credibility, engagement, and squash any possibility of converting visitors into leads or customers. More importantly, 404 error pages (unless they are designed creatively) push users out of your website to your competitors'.
Make sure to fix all your 404 errors. Use the Screaming Frog tool to identify all the broken links and pages.
2. Fix the heading tags
There are a few things you can do to make sure that all the headings tags are being properly used.
Use the primary keyword in the main title (H1 tag).
Wrap all the subheadings in the H2 tag.
Use your primary keyword in the H2-tagged subheadings at least once in a page.
Also include secondary keywords in the H2 and H3 subheadings.
3. Fix the meta descriptions
Meta descriptions are important. These small snippets of text serve as an ad for your web page as they convince to click on your result instead of someone else's.
First, all your web pages must have unique meta descriptions. This is a challenge especially for e-commerce website owners that have similar landing pages for similar products.
Each meta description should have important keywords in it: the primary keyword the web page is targeting and some other LSI keywords.
The meta description should be less than 300 characters, so it doesn't get truncated in the SERPs.
The description should also be engaging, interesting, and encourage readers to click the result.
4. Optimise the loading speed of your website
The loading speed of a website is an important search engine ranking factor now. Make sure it's as good as it could be.
You can use free speed testing tools, such as Pingdom or GTmetrix to identify how long it takes for your site to load. Whatever the results are, know that there is always room for improvement.
Learn how to increase your website's loading speed.
5. Update your resource page
Chances are that you may have published a lot of content in the last year. Make sure that your main resource page is fully updated with all the new content.
In case you don't have a resource page, you should create one.
A resource page helps users find their path instantly and easily. This can be a compilation of your best blog posts or a 'Get Started' page that lives in your menu bar.
6. Repurpose your best content
Your best content is best because of a reason. Your job is to make them momentum going for you by repurposing your best content and publishing them again.
Explore other mediums when repurposing content. For example, turn your blog post into a video or an infographic and explore a different audience and open new doors of traffic.
You can also "refresh" your old, high-performing content by updating its information, adding new and more graphics, and using new data points and quotes.
7. Leverage social proof
Things may have improved for you last year in terms of credibility, social proof, fan following, email subscribers, etc.
If yes, it's time to leverage those results.
Leverage social proof, showcase how many people follow you, advertise your email marketing list, and enhance your website's credibility.
8. Re-examine the bounce rate
The bounce rate on your website is a good indicator of how engaging your website's content is and how well-structured its navigation system is.
Check how much percentage did the bounce rate decrease or increased in the last 6 to 12 months. Also, devise a strategy to improve the bounce rate.
Use sidebar widgets more creatively. Don't forget to use a related-content plugin to improve the bounce rate.
Be smarter
The 80/20 rule applies almost everywhere. The world of search engine optimisation is no different.
These are simple, low-efforts tweaks that are likely to yield high-impact results. By following the tips mentioned in this article, you will be able to give your site a better chance to stand against competitors' websites in the SERPs.
Naim
Free ebook: "Most Comprehensive Local SEO Guide: 2019 Edition" (Valued at £99)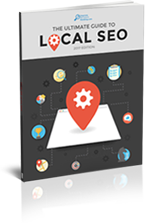 This free ebook will teach you, step by step, how to improve your Local SEO so you can start generating more traffic and sales for your business.
---
100% Privacy. We will never spam you!